This coming Saturday, December 2, Winterfest will kick off in downtown White Bear Lake. There will be horse-drawn trolley rides, photos with Santa, and many other specials throughout the town. In years past, I always marked the event on our family calendar so we could plan to have lunch at Eat! at Banning and Fifth for the one day each year when they offer soup flights. Shawn, the owner, makes the very best soup! An added benefit of purchasing the soup flights on that day is  that the profits go to the White Bear Food Shelf to help those in need of an extra boost during tough times.
Sorry, I couldn't help give my little plug there for Eat! I love their food and their service, and I like supporting other small business by giving my personal recommendations. Now on to the real point of this post...
2017 will be the first year that A Beautiful Pause will participate in the Winterfest activities. We will join other businesses in the Avalon Mall in hosting a Christmas party open to the public from 2:00 to 7:00 pm. There will be extra vendors in the upstairs foyer and hall, as well as specials and treats in the shops. A Beautiful Pause will have a $5 Make-and-Take from 2:00 to  7:00 to make the cute little reindeer like the one pictured above to hang on your Christmas tree or to use as a gift topper.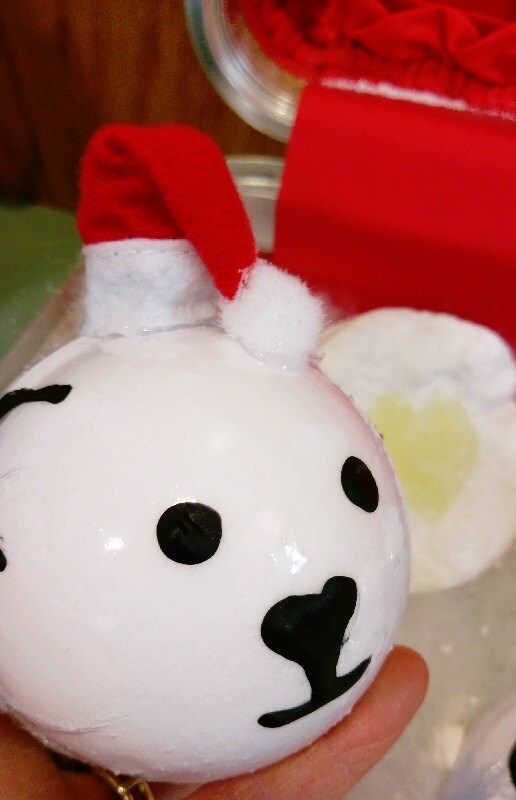 You know you will need a warm bath and a White Bear bath fizzy to finish off the day's events. The peppermint-scented fizzies will be on sale that day for $5 each (reg. $7.50). Like one of our regular bath fizzies, the White Bears have a dramatic fizz. Once the outer part has dissolved, there is a heart-shaped cocoa butter truffle in the center, which provides extra moisture for your skin. Pick up a few extras for stocking stuffers, teacher's gifts, or gift exchanges.
Please bring your family and friends and come out and join us for the festivities.