I am part of an online group of ladies that has been sharing their one word for the year.    
For years the time between Thanksgiving and my February birthday was a sacred time set apart for prayer, contemplation, and the selection of a word to focus on as a theme for the year ahead. The one word helped me dig deep into the specified area.   
However, for the past few years, there has been no word. No reason why not. It wasn't intentionally skipped. Just no single word or phrase seemed to rise above the others.   
But I've missed the focus created by making one word "mine" for the year. And ladies sharing increased the longing for a word. My word.   
So, this year, I once again prayed, contemplated and landed on something that is for me. A word for my soul. And it didn't take until my birthday to find it.   
2018 was a challenging year. Loved ones suffered illness and loss. I had some health issues during the last half of the year. I didn't set enough boundaries for work. My joy and energy dehydrated.   
By year's end, daily living was just an exercise of going through the motions to get from morning to night. Get up, go to work, go to bed. Repeat.   
My husband and I took a week off from the shop and our other jobs after Christmas to rest and recalibrate.   
And as the joy and energy began to seep back into my soul, that's when my word came.   
My 2019 word of the year is LIFE. 
This year I want to continue to add things that bring rest, growth, and nourishment to my soul.   
And weed out those things that stress, diminish, and dry up my soul.   
That includes my reading, my words, what's in my schedule, what is in my house, what I put into my body, how I spend money, etc. It's all-encompassing.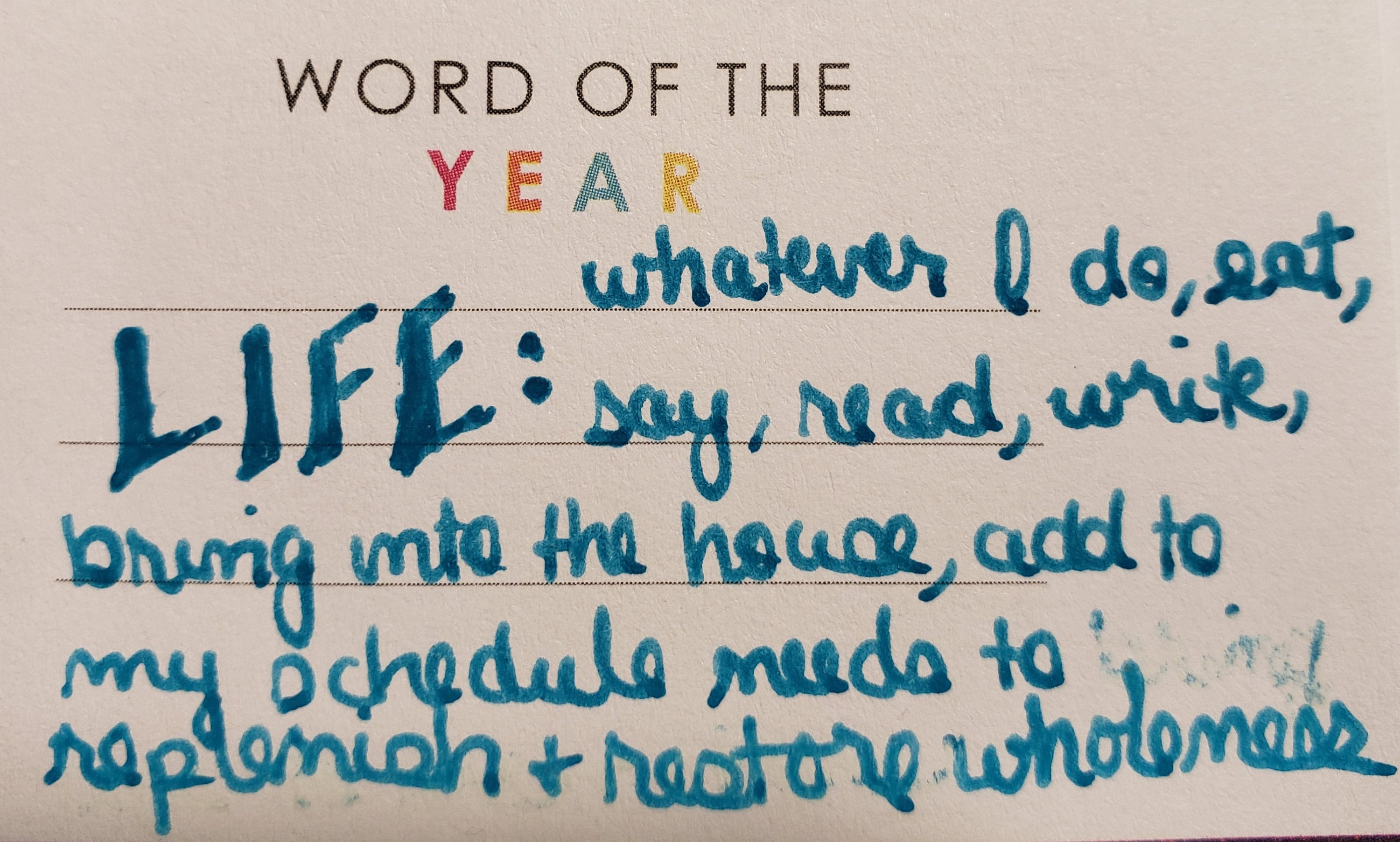 Not every day can be spent at a coffee shop. There are things that still must be done. You know…grocery shopping, laundry, paying bills. Things like that.   
But even those can hold an element of joy.    
My perspective on the mundane had become a bucket drainer too.   
No more!   
I'm taking back all the areas I had surrendered to Weary. This is the year to Flourish.   
So here's to LIFE…   Living Intentionally, Fully Engaged.   
No matter what details 2019 holds, let's end the year better than we came into it.   
Do you have a word for the year? Please share! It has been so much fun in the online group to see what the ladies have selected.